Allotment Associations & Horticultural Groups in Harrow, Middlesex
Allotments under threat - please sign up to the e-petition.
We recently went to an open day run by Terrace Farm Allotments in Watford who are threatened with closure by a new housing development. They have been offered an alternative site but one family have been there for over 30 years – try replicating that soil on a new site!
They have set up an e-petition and would like fellow allotment communities to visit the website and sign up and stand up for allotments!
You can find a link to the e-petition on their website at farmterrace.btck.co.uk
Alternatively you can go straight to the e-petition site at 38degrees.uservoice.com
Published: 6th September 2012 Submitted by Paul Tublin
---
Harrow in LEAF members Janet and Paul Tublin invited you to attend the Barton Way Allotments Open Morning on Saturday 14 July from 10.30am – 12.30pm.

Some of you may remember Janet and Paul Tublin who used to run the Harrow Recreation Ground Users' Association before they moved to Croxley Green. They have however continued their support for Harrow in LEAF and remained loyal members and are inviting fellow members to an Open Morning.

They offer another chance to peep behind the barbed wire surrounding Barton Way Allotments (140 plots) in Community Way, Croxley Green. ( behind the library in New Road).

As usual there will be tours of the allotments. ( Though please take care as following the installation of new water pipes, the paths remain uneven). Our ever popular tasting table where for £1.00 you can sample various items made from produce from the allotment. Also plants, produce for sale, including home made jams and chutneys and an adults and children's tombola.

With some 60 people on the waiting list growing your own is more popular than ever. It is now taking about three and a half years to obtain an allotment, but many items on the allotment can easily be grown in pots on even the smallest patio. So come along and have a chat with the growers.

For more details contact, Paul Tublin 01923 721067.

Barton Way Allotments, Croxley Green.
Published: 14th June 2012
---
Advice about potato and tomato blight from The Potato Council, UK.

According to the UK's Potato Council "Potato and tomato blight is a disease caused by the fungus-like organism Phytophthora infestans which spreads rapidly in the foliage of potatoes and tomatoes causing collapse and decay."

Although their website is for professional growers they also have a section for gardeners and allotment holders and are looking for volunteers to monitor blight...click here for further details on blight and how to help out.

Alternatively click on the Potato Council's logo on the left to download a useful Fact Sheet .pdf document with information about blight and what steps you should take to avoid or destroy.

Their website will also contain a blight map of Britain, showing where serious outbreaks of blight are occuring. We shall keep you posted of any further news on this topic.
Article info supplied by Judy Walker, West Harrow Allotments (Large) and Harrow in LEAF Treasurer.

Published: 6th June 2012
---
Harrow Council held a compost giveaway to "Give Back to the Earth" during Compost Awareness Week
Harrow Council gave away 20 tonnes of compost to residents absolutely free to mark International Compost Awareness Week, taking place between Sunday 6th and Saturday 12th May 2012.
Harrow Council is encouraging its residents to "Give Back to the Earth" in line with this year's theme to promote the making and use of compost at home.
Most people don't realise that up to 30% of their household bin is made up of organic waste which can be turned into compost. Composting is an inexpensive, natural process that transforms your kitchen and garden waste into a valuable and nutrient rich food for your garden.
This great giveaway took place at the following locations:
Wednesday 9th May between 3pm and 7pm
Roxeth Recreation Ground, Eastcote Road car park

Thursday 10th May between 9:30am and 1pm
Kenton Recreation Ground, Carlton Avenue car park.
A composting expert from the London Community Resource Network was also on hand to offer advice and to answer your questions. Compost will be given to residents on a first come first served basis and there will be a limited supply. Don't forget to bring a strong bag, wheelbarrow or bucket to take your compost away in!
John Edwards, Divisional Director of Environment Services, said: "It takes very little effort and diverts a lot of waste away from landfill, so I would encourage all residents to come along and get some free compost, to transform the way they use their kitchen waste. It's both easy to make and use, and makes Harrow a greener place to live."
Published: 3rd May 2012
---
Can you help WISEWORKS turn their land into a garden?

Wiseworks sell quality plants grown in the greenhouse recently donated by Harrow in LEAF.

Wiseworks is an organisation that provides a safe and supportive environment for people with mental health problems, helping them to move into work or further education. They learn skills in such things as horticulture, woodwork or IT, and develop social skills useful in the workplace. Under the guidance of their part-time horticultural tutor they grow good quality plants for sale, with the help of the greenhouse recently donated by Harrow in LEAF. We would like to continue to support this valuable enterprise and involve our members.

They have recently been given approximately 800 sq m of land next to their site in Marlborough Hill, Harrow, to turn into an allotment and a sanctuary garden. The trees have been felled and the ground is being cleared of stumps and rubbish by a Community Payback team, but to make the best of this wonderful opportunity they would like our help. The small enthusiastic Wiseworks team do not have the knowledge or expertise to plan this garden, to decide what to grow and how to set about it. They have asked if Harrow in LEAF could help by offering advice on planning and planting, and by helping to supervise the work as it progresses. The digging and planting would be done by Wiseworks.

Could you offer a few hours to help plan how they can turn their plot into a garden or to support the staff looking after the project? Could you pass on some of what you have learned from your own garden or allotment to help make this garden grow?

If you would like to help, please contact Harrow in LEAF on 07968 417367, or email: info@harrowinleaf.org.uk.

You can go and see Wiseworks for yourself at their Spring Market, on Wednesday 23rd May, 11 am–3.30 pm, 74a Marlborough Hill, Harrow HA1 1TY. The Mayor of Harrow will declare the plot of land officially functional and describe the plans for the land. Refreshments will be available.
Article written by Diana Dolman, Headstone Allotments and Gardens Association.

Published: 1st May 2012
---
Gardening at Weald Junior School, Harrow.
We use gardening as an opportunity to teach children about soil types, food chains, seed growth, self-sufficiency and sustainability.
We are currently looking for support from outside agencies including the RHS, local charities and local suppliers for child-sized tools (border forks are ideal size for the children). We have received, with HA21's help, support and resources from Squires Garden Centres in Stanmore and Cottage Garden Nursery in Barnet.
Our next goals are to establish regular garden clubs and to fund a shed and a greenhouse so that we have somewhere to grow our seeds instead of everyone else's window ledges! We need some more tools such as rakes and border forks. We have space for numerous water butts which we would like to source as well as a composting area to help reduce the cost of improving our soil.
We began by digging over a waste patch of land last year and persuading the school maintenance team to build some raised beds. We back filled with over a ton of topsoil and grew some vegetables. Sweet corn and potatoes were our most successful products!


Digging for potatoes (left) and picking (right) runner beans in September. We harvested vegetables and sold them in the playground to parents for donations and raised £26. This has gone towards this year's seeds and compost.

Using gardening as an opportunity to teach children about soil types, food chains (this picture on the left is showing how worms help us), seed growth, self-sufficiency and sustainability.


During the winter we dig in composted materials to improve our poor soil quality. This is the most enjoyable part apparently!

Article and pictures submitted by Ben Slater, Head of Gardening (and year 5), Weald Junior School.

Published: 27th Apr 2012
---
Celandine Walk upgrade completed

On 22nd February 2012, Harrow Council began the 3 week upgrade of the footpath that runs by Cuckoo Hill Allotments, Cranbourne Drive, Pinner which has now finished.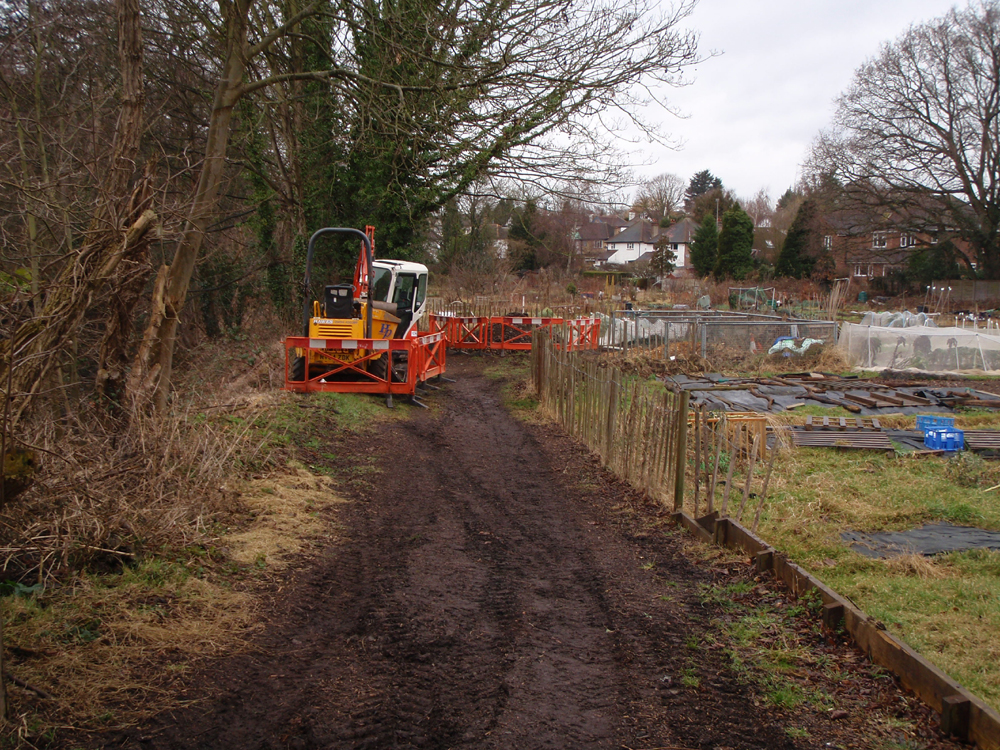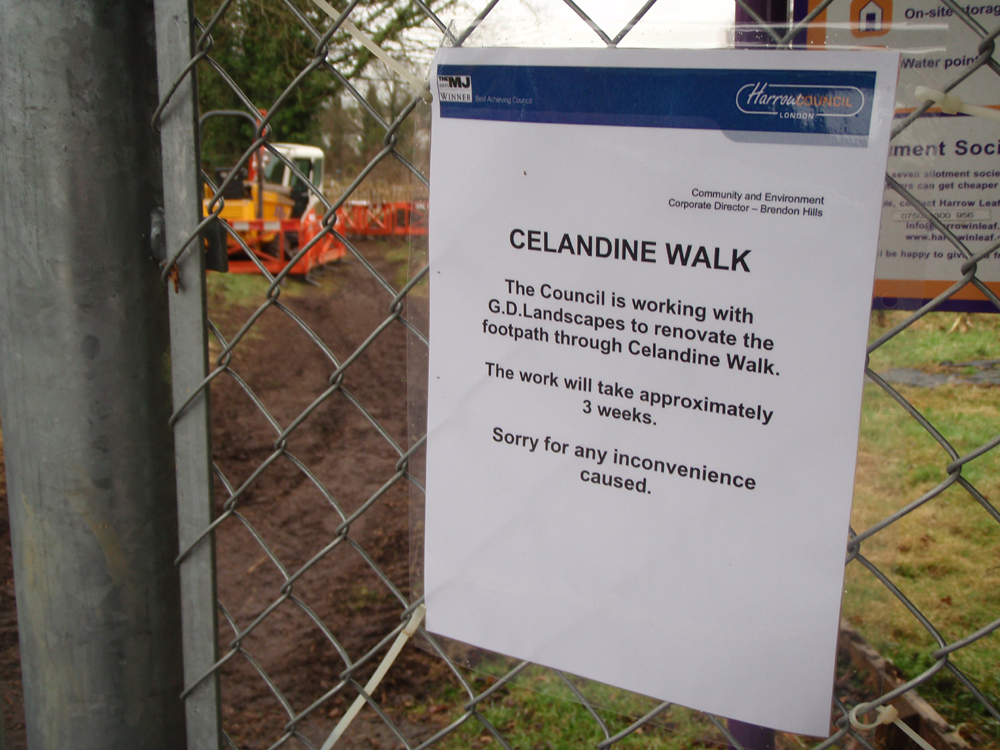 The path links with the Hillingdon gravel footpath at the western end of Cuckoo Hill Open Space. The footpath has a drain under it at the west corner of the allotments to allow surface water from the allotments to drain to the River Pinn.

One of the purposes of this path is to protect the plants and wildlife growing under the trees, as these can be trampled when the existing footpath becomes muddy and covered in puddles.

It would be a friendly and social gesture if the dog walkers who dump their plastic bags by the main gate could actually take home their dogs produce for disposal.

Images of the new Harrow to Hillingdon path on 2nd March 2012: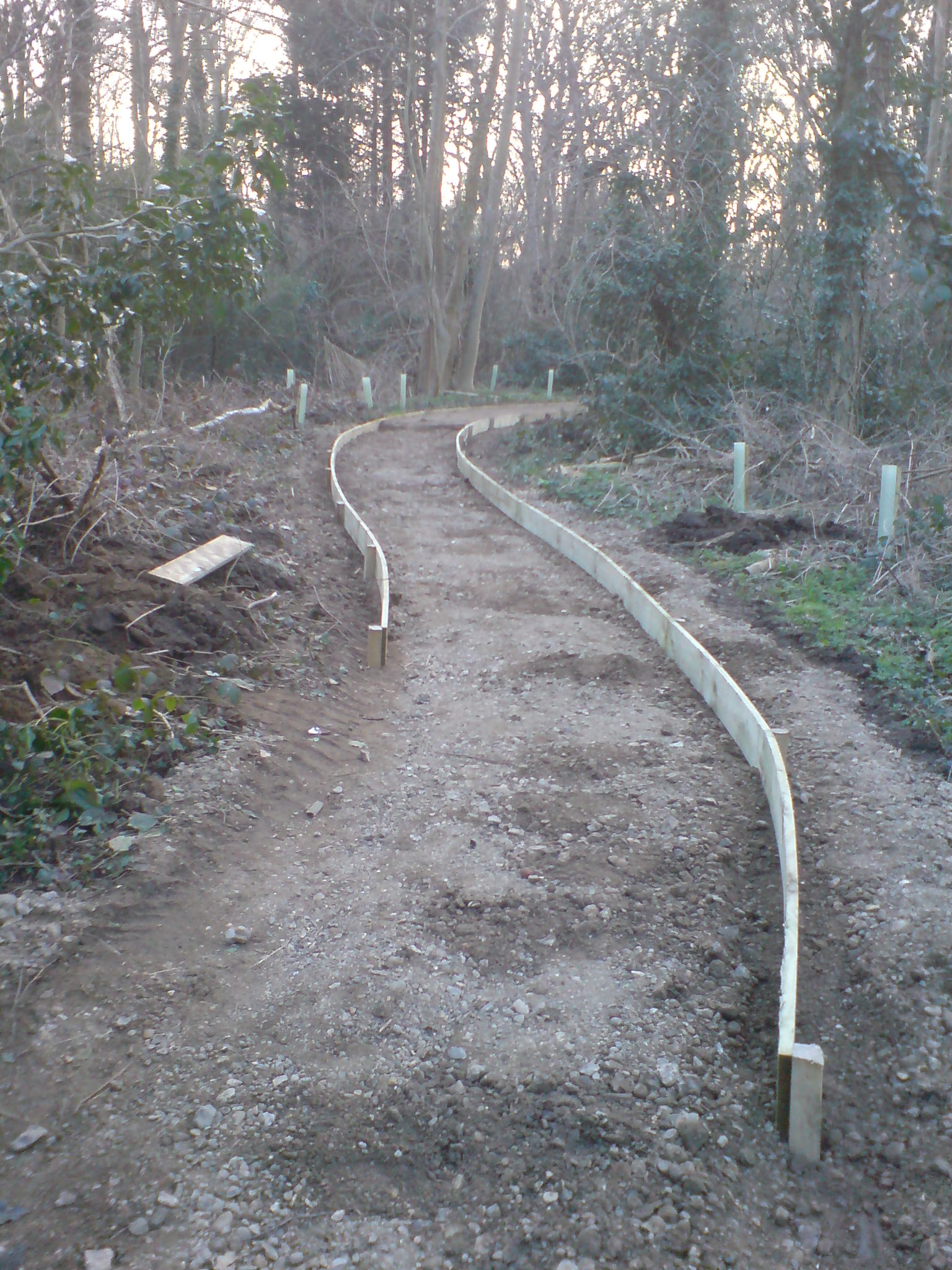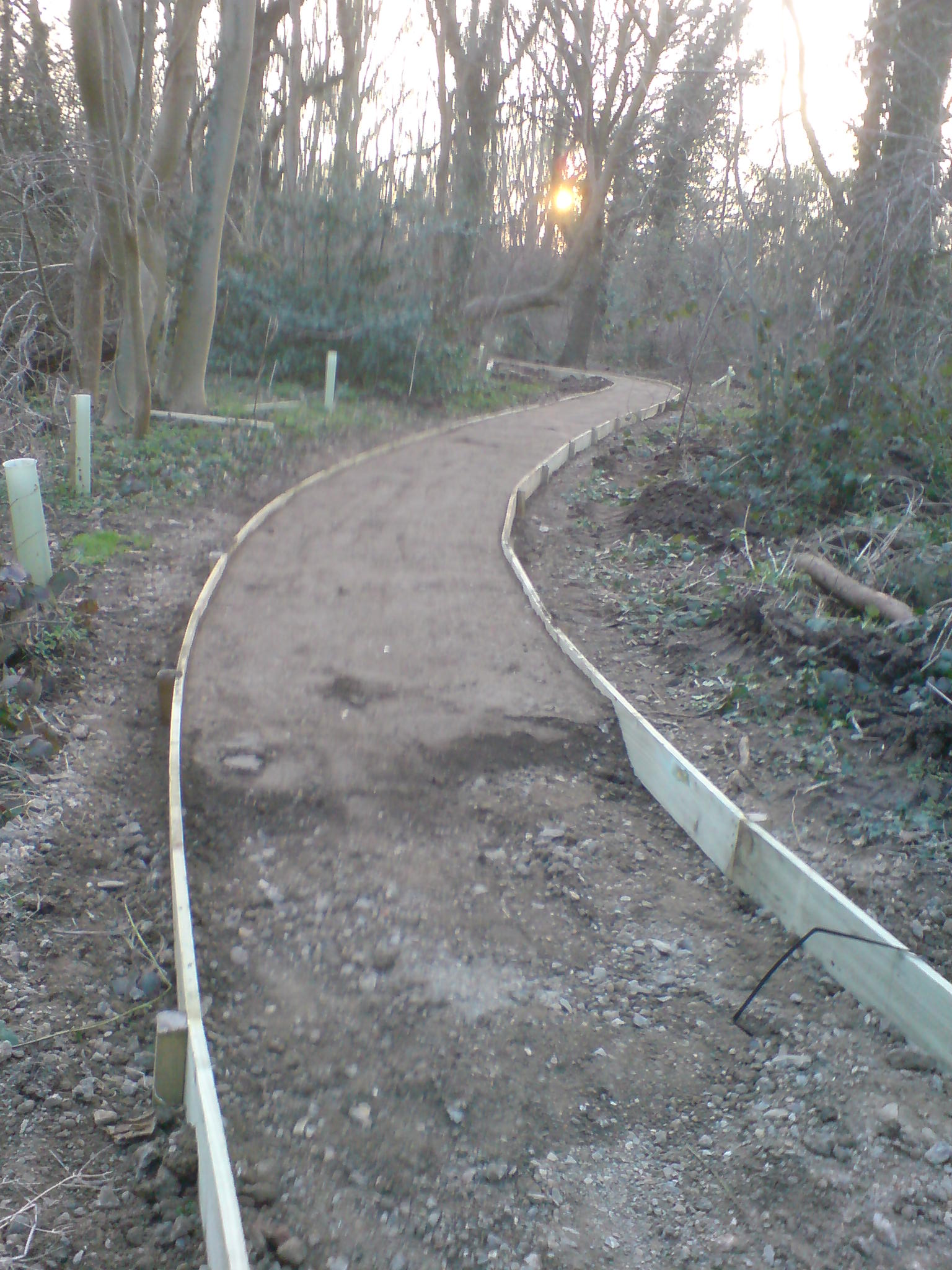 The Cuckoo Hill Mob also requested a dog litter bin at the Cranbourne Drive gate because more Harrow dog walkers will potentially start to use this path. We wait.

Published: 22nd Feb 2012
---
Along with the award, a piece of crystal with Judy's name upon it, Harrow in LEAF received a cheque
for £200!

Harrow's Heroes - Voluntary Sector Awards.

Harrow's Heroes is an annual event created by Harrow Council as a positive celebration of the amazing contribution of all Harrow's volunteers. The aim of the award is to thank volunteers and celebrate the valuable contribution they make and to recognise the work undertaken by Harrow volunteers in building a stronger community.

Last year, Judy Long, our then secretary, won the Environmental Volunteer of the Year award for her work in developing a tomato trials bed using sustainable watering methods.

We recommend all charities and volunteer organisations consider nominating their hard working volunteers for this award. There can only be 6 category winners, but everyone who is nominated gets to attend this prestigious event and will receive a certificate in honour of the work they have done so it is a wonderful way of letting them know how much they are valued.
---
The 'Green' Greenhouse continued

Year 6 children - Owen, Asad, Abdirahman, Kira, Hidayah, Mansoor, Manisha, Rimal, Alastair, Oscar, Toni-Ann, Brody, Liam and Joshu'waa.

The children of a local school have built this amazing plastic bottle greenhouse on their allotment site, and Friday 26th June saw the grand opening party, complete with strawberry tea...

The driving forces behind the project have been classroom assistant Mrs Fink and parent and Chair of Governors Ms Rundle, and the greenhouse was based on an article seen in a magazine. It took the children of Vaughan School six months to collect the 1500 plastic bottles needed to build the walls. The bottles were washed and the labels removed.



The corner posts of the 8' x 6' greenhouse were concreted in and frames for the sides, gables and roof were built by parents and teachers. On April 1st all the bottles had their bottoms carefully cut out. May 29th was the day that seven children from year 7, and four year 10 children from Whitmore School put the structure together, with the help of some parents. With the frames on the ground, the bottles were linked together on canes and stapled to the frames. The frames were then attached to the corner posts, and the structure completed with the gable and roof frames.

Liam, Shakti, Connor and Joshu'waa – four of the team who constructed the greenhouse.

The greenhouse provides valuable protection for tender crops and for raising plants from seed, and at the moment this cosy environment is being used to grow tomatoes, peppers and herbs.

Crops inside the greenhouse.
Children from year 7 come over to the allotment in their breaks to water the plants, and groups of children from all
years in the school, from the nursery class to year 7 come to work and learn on the site.
The party to celebrate the completion of the greenhouse on Friday saw a gathering of children from year 6, parents
and teachers from Vaughan and Whitmore Schools, and a photographer from the local press, who were all given a
warm welcome with cups of tea, and strawberries and cream. The children gave guided tours of their allotment, and
most of the adults left the party knowing a lot more about growing veg than they did when they arrived!
I can't think of a better way to celebrate the building of this magnificent structure, an eco-friendly and low cost
greenhouse, a marvellous way to recycle plastic bottles, and a credit to all the children and adults involved in the project.
If you'd like to build your own recycled greenhouse, try the following link
www.reapscotland.org.uk/downloads/?did=8 I hope yours turns out as well as the one built by these dedicated
and enthusiastic children.
---
Earth Project taken over by Shaw Trust
The Shaw Trust officially took over the Earth Project at Newton Park East allotments on 31st August 2011 and will continue to run this Horticultural Project.
Harrow in Leaf are happy to continue their support of this initiative.
The Shaw Trust will be continuing to run the site as a Horticultural Project.
• Read about the Shaw Trust project in Harrow
• Previous stories on the Earth Project
Published: 5th Dec 2011
---
Luxury Homes To Let continued

This high-rise des-res for insects and small mammals has been built by members of the Barn Hill Conservation Group in their garden at Kingsbury. It is built of pallets and contains a variety of habitats to suit a wide range of species.

Damp cracks at the base provide shelter for toads and newts, straw between the layers gives nesting places for insects and field mice. Larger spaces between stones and roof tiles suit spiders and larger insects, or even hibernating reptiles.

Pipes filled with bamboo canes provide overwintering shelter for ladybirds, and solitary bees may use them during the summer.


Logs with holes drilled into the ends are used by leaf-cutter bees to lay eggs, and pine cones provide shelter for spiders, and small insects.
Corrugated cardboard, rolled up, is useful for lacewings. Their larvae feed on aphids - very useful on the allotment or in the garden.
The roof has a layer of roofing felt, and is covered with sedum, pebbles and pots.
Both these insect houses make decorative and useful features for your garden, providing homes for many insects that may help you deal with those troublesome pests!

---
Museum Gardening Club continued

This dedicated band of volunteers, led by Barbara Ferguson, spend the mornings on the first and third Tuesday of the month working to maintain and improve the area surrounding these historic buildings, and certainly succeed in providing a colourful and welcoming setting for a visit there.

The donation has enabled the club to lay a stepping stone path and to plant up a delightfull flower bed at a corner of the barn.

The museum provides the perfect backdrop to the annual horticultural show held there by Harrow in LEAF every August Bank Holiday weekend. The two-day show also features live entertainment, bee-keeping displays and show, craft and charity stalls, and fun activities and rides for the children.

The gardeners would like to recruit more members to their club to help them keep up their high standards, so if you can spare some time, why not go along to the garden on a Tuesday morning, contact Barbara on 020 8933 6668, or the Museum, on 020 8861 2626.
You'd be very welcome; you don't have to be an expert gardener, and coffee and cakes are supplied!
---
April 2012 Update: Wife and daughter found guilty of murder of Mr Banfield

But body still not found - click here for further details

Published: 3rd Apr 2012
Kenton Lane Allotments Target for Police Murder Investigation

Plot holders watched aghast as police cordoned off a plot on the otherwise 'model' allotment site in Kenton Road, and began to clear the site for further investigation.
In 2001 an investigation started into the disappearance of a Mr. Banfield of Locket Road in Harrow. Nearly 10 years on we can only wonder what has come to light that has brought their investigation team to this well-kept and well-attended allotment site.
Harrow in LEAF became aware of the police attending Kenton Lane Allotments on the morning of Wednesday the 7th of July (2010) and sent their own team of investigators down to find out what was occurring.
"On entering the site we found a large transit van with a telescopic camera on it. They were trying to take an over head photograph to see if the ground below had been disturbed", but one allotment holder on the site said the ground was far too bumpy to get a useful image and they then started to clear the site to investigate further.

An appeal for information as to the whereabouts of Mr. Banfield was made by police in September 2009, this was followed more recently by the missing gentleman's wife and daughter being arrested in Canterbury and questioned on suspicion of Mr Banfield's murder and on fraud charges.
It is believed that the allotment plot, within the Kenton Road Site, was previously rented out to Mr. Banfield's father-in-law, who we think may have passed away that same year. Last year, the family home in Locket Road was investigated, resulting in the excavation of the rear garden.
"Now it would appear that the investigations have moved on to this beautiful allotment site, and from what we can gather they will be excavating this site to see if they might discover the remains of the missing man" one of our investigators said.
A call to Harrow Council's allotment officer produced no leads for Harrow in LEAF as Mr. Slavin stated he has been instructed not to give out any information with regards to the Kenton Lane site.
| | |
| --- | --- |
| The police descended on the site during the morning and cleared it all. "The weeds were very high as the most recent tenant has been unwell" said Pam from plot 8. "There was an old shanty shack – you couldn't really call it a shed", which has been on that plot for many years now, "but when I came here today it was gone". Pam remembers the tenant from 2001 very well, but there have been other tenants on the site from that time till now. | |
All the excitement and intrigue is likely to continue, as it is expected that Police will excavate the plot tomorrow [Thursday 8th].
Update - Despite almost a week of digging, nothing was found on the plot, and police have now abandoned the search at the site, although the investigation in to the disappearance of a Mr. Banfield is still ongoing.
---

Other news is available... click here...